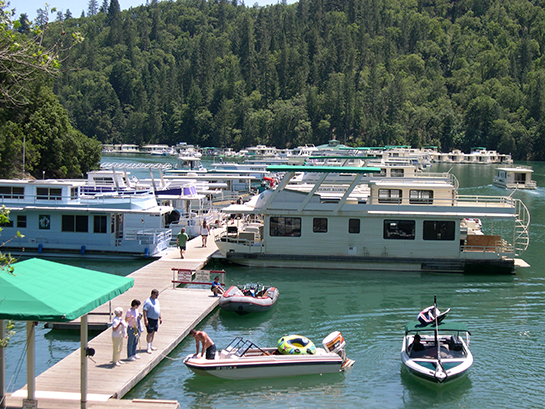 Located in a quiet corner of Northern California, Lake Shasta is a 30,000-acre reservoir lake with around 360 miles of pristine shoreline with crystal clear views of the always-snow capped peak of Mount Shasta. The largest manmade lake in the state, it consistently ranks as one of the top 10 lakes for house-boating in the country, and Holiday Harbor is the best marina for houseboat rentals at Shasta Lake.
Imagine floating on a clear, cool mountain lake on a summer day with a group of friends or family as you pass by panoramic views. House-boating at Lake Shasta in Redding, California is the perfect way to celebrate a family vacation or retreat with a large group of friends.
Boating is perhaps one of the most popular outdoor adventures at Lake Shasta. On any given summer day, all types of watercraft crisscross the lake from inner tubes to motorboats, but for the ultimate vacation, consider a houseboat rental. Holiday Harbor offers several different models for every group and budget with sleeping accommodations from six to 16 passengers. According to size, you will have up to two bathrooms, one with a shower, kitchen facilities with accessories, and a combination of comfortable pull-out or bunk beds. Some models have private rooms, a penthouse, a swim deck platform, and a flybridge with a covered canopy.
Never piloted a houseboat before? No worries, you will receive a how-to orientation on how to operate the houseboat or vessel rental of your choice. All controls and systems will be checked thoroughly and maintenance, safety, and navigational procedures will be explained and demonstrated. The staff will ensure that you will be able to handle your rental like a pro even if it's your first time.
For your convenience, the marina at Holiday Harbor has a general store for snack foods, ice, fishing supplies, and beverages. Shop in advance for more groceries and essentials at stores located about 18 miles from the lake. You can bring linens and towels from home, your own comfy pillow, and even your furry best friends. Domestic pets on a leash are allowed on the premises.
While on your Lake Shasta houseboat vacation, make sure to experience the activities and attractions the area has to offer. The lake has hundreds of quiet coves for docking. You will find some of the best shoreline access at Silverton, Jones Valley, and Shasta Dam. Anglers will love fishing at Shasta Lake. Expect to catch your fair share of bass, rainbow trout, brown trout, Chinook salmon, crappie, and catfish. Fish right off your houseboat rental or from the shore. Or dock and trade your sea legs for scenic hiking. Trails with stunning views traverse mountain peninsulas through forests of oak, pine, cedar, and Douglas fir.
The Shasta Dam, with a spillway three times higher than Niagara Falls, is a must-see. The breathtaking site inspired Arthur Guthrie, who helped build the dam, to compose the song "This Land is Your Land." And don't miss a tour through the caves at Shasta Caverns. Accessible by houseboat, the caves are a geological adventure of stalactite and stalagmite formations that began forming around 250 years ago.
So come to Shasta Lake and float along with your accommodations and amenities by renting a houseboat from Holiday Harbor.