If you are looking for a way to spend your Shasta Lake vacation, a houseboat rental is a perfect choice. Houseboats are great for those who want to take a break from the busy hustle and bustle of daily life. You will get to enjoy an incredibly serene and peaceful environment while you explore the waterways of this beautiful lake. The scenery is more than just breathtaking, but it will surely put a smile on your face.
We are proud to offer a variety of houseboats for rent to accommodate your needs. Each one is unique and designed with the utmost care and attention to ensure you will be in an environment where you feel at home.
Houseboats are great for families or groups of friends who want to vacation together. Each houseboat features two bathrooms, a kitchen, a living area, and sleeping quarters. Some decks overlook the lake, where you can relax and enjoy the wonderful scenery.
Do you want to get a great deal? Here are some tips: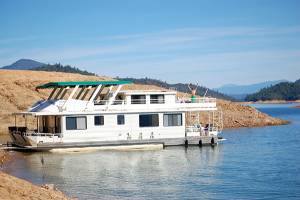 Go online to find 2022 Houseboat Rentals on Shasta Lake to get the best deal. You can save up to 50% compared to booking a last-minute deal. It is also cheaper than booking directly with the owner or management company of a particular houseboat.
Most houseboats are rented on a per-day basis. So make sure you pay for the number of days you plan to stay.
Reserving your houseboat rental in advance is always recommended. That way, when the day comes, you don't have to wait in long lines at some agency. With a reservation, you just need to walk in and choose rates and other details such as payment methods.
Be sure to book more than one houseboat if possible. Not only should you get a discount, but it will also give you a sense of freedom when exploring the lake.
Check the size of your houseboat and the number of people you are going to accommodate. Make sure you are getting more than your money's worth.
Are there any extra charges? There are usually additional charges for registration, gas, docking fees, etc. Make sure to ask all these things to avoid unpleasant surprises later on.
Is there a good location? You may want to check the location of your houseboat. It might be convenient for your destination. Check out a map, so you will know how long it will take you to get to a particular spot in the lake.
What is the condition of the houseboat? Take note of any damages or defects that may affect your comfort while staying on board.
What is the number of bedrooms? You should always check the number of bedrooms to ensure that they can fit up to your needs.
Is the houseboat on board a lift? A houseboat on board a lift can easily be moved from one spot to another at no extra cost to you. If you plan to explore different parts of the lake, you may want to consider one and see if it accommodates your needs.
Come and book your next houseboat rental on Shasta Lake. We promise you won't regret it!
You will find a variety of boat rentals to choose from. We have luxury houseboats, fish-friendly houseboats, and even pontoon boats perfect for the whole family. Plan your next trip to Shasta Lake and enjoy the best vacation of your life by renting a houseboat today!