RV camping enthusiasts are always on the lookout for the next sweet spot to enjoy the Great Outdoors. A special place that has much to offer whether it's your first stay or your 10th is Holiday Harbor's waterfront RV camping at Shasta Lake.
Located on the McCloud Arm of the lake's four arms, bask in the awe-inspiring scenery of mountains, woodlands, and the sparkling blue-green waters of Shasta Lake as you drive to your reserved tree-shaded campsite equipped with full hookups.
Lucky you! Holiday Harbor is located on a small peninsula that juts into Lake Shasta. Enjoy gorgeous water views on three sides providing quick access to the lake for fishing, swimming, waterskiing, kayaking, and other watersports. Two tent sites are available if some in your party want to feel even closer to nature by sleeping under the starry night sky. How's that as a home base for the duration of your stay?
Holiday Harbor's Marina is considered the best marina on the lake. RV campground reservations at Shasta Lake include a 15% discount on specific water toys for extra thrills on the water so be sure to ask about them. Also, non-discounted water toy rentals include patio boats, towables, and personal watercraft to explore the lake's rugged coastline including hidden coves. Of course, you're welcome to bring your own kayaks, bikes, canoes, or boat; alternatively you can reserve such rentals as well.
All RV campground reservations at Shasta Lake have convenient access to men's a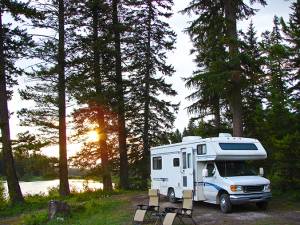 nd women's restrooms and showers as well as laundry facilities so you can always have fresh linens and clean clothes for more adventures. A general store is onsite for essential items you may have forgotten as well as snacks, beverages, ice, bait & tackle, and souvenirs including Shasta Lake casual wear.
If fishing is on your agenda, Shasta Lake is teeming with largemouth and smallmouth bass, bluegill, crappie, carp, sturgeon, King salmon, rainbow and brown trout. No wonder Shasta Lake is considered a fisherman's paradise.
Holiday Harbor attracts visitors from around the world to indulge in a unique RV experience, yet for locals in the greater vicinity, it's only 18 miles north of Redding, 230 miles from San Francisco, 175 miles from Sacramento, 170 miles from Eureka, 220 miles from Reno, and 405 miles from Portland. It's a great destination to meet outdoor adventurers from all over.
Holiday Harbor shares the same road as the national natural landmark, Shasta Caverns (of Shasta Caverns Road), an underground wonderland of stalagmites and stalactites. It's just a two-minute drive or a gorgeous 13-minute nature walk. Then get ready to embark on a boat ride, the only way to reach these jaw-dropping caverns.
Whether you go during peak season or off-season, nightly, weekly, and monthly RV campground reservations at Shasta Lake are available. Note that the campground is closed during winter months.
Holiday Harbor is an idyllic setting whether you're a couple, a group of friends, or looking for family-friendly fun. After all, it's places like Holiday Harbor at Shasta Lake that fond childhood memories (and adult memories too) are made of. Make your RV campground reservations at Shasta Lake; secure your spot today!