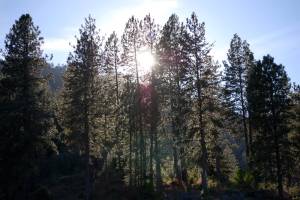 Camping in an RV is an adventure for the entire family to enjoy! The RV Campground at Shasta Lake has a wide range of activities and plenty of fun things to do. Pack your gear and head over to the campsite for your ultimate outdoor experience. You will first notice the picturesque views and calm surroundings as you bond with nature. Once you get settled into your campsite, check out the following fun activities!
Sports and Recreation
Athletic campers have a variety of options to choose from that will fulfill their competitive spirit. There are volleyball and basketball courts located on the property that allows you to meet other campers and pick up a fun game so you can show off your skills. Ping Pong or table tennis is a popular choice for campers of all ages and skill sets.
Water-Related Activities
Splash around in the pool and swim a few laps as you cool off while surrounded by nature. The swimming pool area is available to all campers. Children under the age of 18 need to be supervised by an adult.
Shasta Lake is beautiful to look at, but it's also fun to enjoy. The campsite allows visitors water access to the lake so you can enjoy boating, fishing, and water sports.
If you don't want to participate in water activities, you can find a quiet spot along the shore and read a good book or enjoy a picnic. The shore side of the lake is one of the most peaceful areas that encourage serenity and calm to those who visit.
Fun for the Kids
The little ones can burn some energy at the playground while making new friends. Tweens and teenagers can enjoy a competitive game of horseshoes when they have downtime.
Shasta Dam
This breathtaking dam is more than 600 feet high and has a spillway three times the height of Niagara Falls. The magnitude of Shasta Dam is so amazing you must take pictures to show your friends and family back home.
Shasta Caverns
Take a time machine to 250 million years ago when you visit this geologic wonder. Shasta Caverns is accessible by houseboat only. The entire family will have fun participating in activities such as gem mining and enjoying a unique view of stalagmite and stalactite.
Castle Crags and Mount Shasta
Accessing Mount Shasta and Castle Crags requires a short trip north of Shasta Lake. The beautiful snow capped Mount Shasta is 14,000 feet above sea level and features granite peaks and evergreens. This incredible location is a great place to enjoy the outdoors and explore nature.
Shasta Lake is the place to be when you want to camp in natural surroundings and experience exciting adventures. There's something to do for everyone in the family. Your days will be filled with sports, water activities, hiking, picturesque views, meeting other campers, unique adventures, and geological exploration!