Many families dream of lakeside lodgings, but some opt for a life on the water – and for good reason. Supply and demand for houseboats have increased over the years. Lakeside marinas are setting up more rental opportunities to accommodate the many people who wish to vacation on the water. A number of slip rentals available for private vessels are growing. Regardless of the duration, staying on the water allows you to experience the lake as you enjoy the serenity and views. Here are six very relaxing benefits of staying on a houseboat.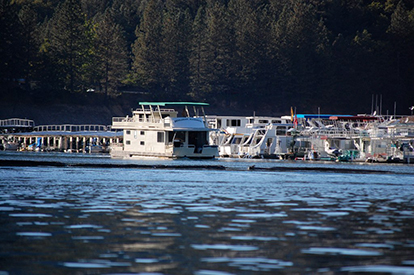 Utterly Unique
Lodging in hotels while on a trip can be quite boring. Houseboating will make your holiday memorable due to the unique experiences that make them so different from traditional hotel environments. Staying on the lake will give you a relaxing and warm feeling. Choose a fully-furnished houseboat that falls within your budget. Rental facilities offer an array of options on their vessels such as televisions and waterslides. Marinas also host restaurants, bait shops, and other services that will enhance your stay.
More Affordable
Vacation lodging facilities like motels and hotels are expensive. Houseboats, on the other hand, are less costly despite the fittings, furniture, and systems that resemble those in your home. During your stay on a houseboat, you will enjoy beautiful views while you cook and eat your dinner or watch the kids swim off the back deck. Privacy on vacation can be hard to come by, but houseboats give you the chance to explore and find your own little corner of the lake.
Purely Recreational
Since you are already on the water, fishing, wakeboarding, and swimming, are easily accomplished. You have the chance to engage in these activities at a moment's notice. In addition, Houseboats have adequate space to store all the toys and fishing gear your heart desires. From the quiet fisherman to the wild child, everyone will find something to occupy their time.
Forever Flexible
Living on a houseboat gives you access to water throughout the day and night while also keeping you near town when you need the essentials.When going out for shopping or fancy dinner, you can either make your way to a lakeside marina or park your home and drive into a nearby town. Change locations on the lake depending on your favorite view and visit any little cove you can find along the shore. In a way, houseboats serve as both your home and your mode of transportation.
Quiet Lifestyle
Houseboats are perfect when it comes to changing your lifestyle. The environment is free of yard work and traffic noise. Your loved ones will feel the water motion right from their rooms. The soothing waves and wind sounds will bring serenity and romanticism to your days. Sunsets and sunrises provide a blissful feeling, especially during summer.
Vast Views
The growth of cities and the increases in tall buildings has made it hard to get any sun in most city areas. Large lakes are open and give you a continuous view of sunrises, sunsets, and water. Motor across the water to view the forest and wildlife. Deer, bald eagles, mountain lions, and snakes are common around mountain lakes. You may even spot a bear swimming across one evening.
So why not give your family a different experience and memorable treat during the next holiday? Renting a houseboat is economical, especially for larger families. Your family will be comfortable and have privacy not offered by hotels.