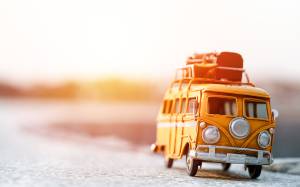 Tiny-home living has taken the nation by storm. Young people have discovered the money-saving benefits of small homes and millennials have embraced a lifestyle lived before only by those of the elder generations. Across the U.S., tiny-home dwellers have decided to stay on the move by converting old school buses. Here are six tips to saving space and money on your school bus conversion.
Save Space
1. Limit yourself
When packing your bus for travel, leave unnecessary items behind. If you haven't used in the past year chances are you won't need it in the next year either. Not only that, but limiting your belongings will make setup a breeze at virtually any RV campground you choose because everything will be easier to find and access.
2. Use the nooks and crannies
Spaces such as cots and dining table benches are the perfect places to hide small cupboards and drawers. More than likely you aren't planning on setting these directly on the floor and just a few hinges and clasps will turn these once-empty voids into useful storage areas.
3. Get crafty
Embracing your inner Martha Stewart and trying your hand at some fairly simple crafts will help you save tons of space on your converted bus. You can attach shallow drawers to the underside of your dining room table or attach a frame inside of a cabinet door to hold your knives. Hanging shoe organizers will store canned goods on the backs of doors and you can use a wall-mounted wine rack to hold towels.
Save Money
1. Move with the seasons
Skoolie owners are usually proud of their ability to save energy, and therefore, money as well. Many seasoned conversion operators suggest nixing your power-sucking air conditioner and instead traveling to cooler climates during the hot summer months.
2. Invest in solar power
While there are some initial costs associated with the installation of a solar power system they are meant to save you money in the long run. As of March, propane prices were hovering around $2.40 per gallon. The installation of solar panels on a small bus will cost less than $3,000.
3. Pre-plan your power usage
Are you a dedicated self-juicer or coffee drinker? Do you need the convenience of a washer and dryer? These are all things to be considered when planning your bus conversion. Knowing how extensive your electrical system needs to be will keep you from spending cash on unneeded wire, outlets, and breakers.
Living in a converted bus may not be for everyone, but if you have chosen a life on the road you will want things to go smoothly. Besides, your quest for adventure shouldn't be hampered by undue clutter and costly repair bills.