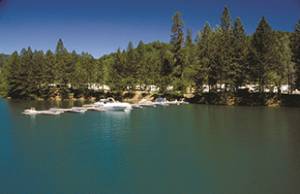 Come and play on Shasta Lake, a 30,000-acre crystal blue lake in Northern California near the perpetually snow capped Mount Shasta. With over 300 miles of shoreline, the lake is perfect for waterskiing, wakeboarding, and fishing. On any given summer day, you'll find the huge lake filled with boats, jet skis, and happy campers floating on inner tubes. Best of all, you can bring your accommodations with you. RV campground Shasta Lake has dozens of shady sites with hookups by the lake's shore. Have your own swimming area and private dock with nearby restrooms, showers, laundry facilities, and picnic area. Pick up supplies at the camp store and spend a few days or weeks relaxing in the great outdoors. Join other friendly campers for activities like horseshoes, ping pong, and family movies at night.
Although Shasta Lake has no designated swim areas or beaches, campers can swim along the shoreline of the campground or from boats. The calm water is perfect for water sports like skiing and wakeboarding, and anglers will delight at the variety and abundance of fish. Three major rivers, the Sacramento, Pitt, and McCloud feed into the lake along with streams and tributaries. Find your favorite fishing spot where the rivers and streams flow into the lake. Expect to catch rainbow trout, large and smallmouth bass, and more. The area also has lots of wildlife, and you may even spot a rare Bald Eagle.
You'll find other diversions and places to explore around Shasta Lake. Drive just a little bit south to visit the country's second-highest concrete dam. Stop in the Shasta Dam Visitors Center to learn how it converted California into one of the world's richest agricultural regions. Take an afternoon to explore Dunsmuir, a quaint little railroad town in the deeply forested mountains along the Sacramento River. Dunsmuir is also home to Hedge Creek Falls cascading over cliffs into the cavern below.
Visit the charming city of Mt.Shasta to browse the unique shops and dine in one of the cafes. You'll be at the foot of the second-largest volcano in the U.S., Mt. Shasta. Stop by the headwaters of the Sacramento River and fill up a water bottle of pure spring water to taste. Get adventurous and go for a summer hike at Mt. Shasta Ski Park. Castle Crags State Park is another nearby place for outdoor adventures, so named for Northern California's dramatic rock formation with glacier-polished crags. There are 28 miles of hiking trails in the 4,350-acre park. The trails include a 2.7-mile trail to access the Castle Crags Wildnerness in the Shasta-Trinity National Forest
McArthur Burney Falls State Park is another great side trip from Shasta Lake's RV parks. Once called "The Eighth Wonder of the World" by Teddy Roosevelt, water rushes 129 feet below into a stunning pool of water. Go on a hot day and let the mist cool you down.
Whether you're off to explore Northern California or simply want a relaxing lakeside stay, let RV parks Shasta Lake be a part of your adventures.