If you are not familiar with Shasta Lake, it is 46.88 square miles of beautiful shoreline. When you are here, you will appreciate the crystal clear water, surrounding greenery and hills, and you might even spot a bald eagle. While enjoying your time on this peaceful lake, you can also add as much fun as you would like.
Getting here is easy, but you are not going to be thinking about your travel day once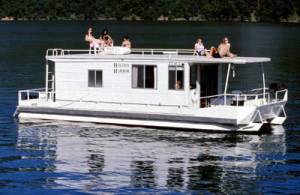 you are here. That is because you will be in a location that many people think of as paradise. And the best way to take full advantage of this paradise is to rent a houseboat.
7 Houseboats
You will have seven different houseboats to choose from. When you reserve your houseboat on Shasta Lake for 2021, a lot should depend on what type of experience you are seeking as well as how many people are in your party.
If you have a small party and have a smaller budget, look at The Diplomat. This boat gets the job done at 36 x 14. It sleeps six and offers all the basics, including a bathroom with a shower, three beds, a private room, and a propane fridge/freezer. These are all important features, but the neatest part about The Diplomat is that you can relax on the roof all day and take in the surrounding scenery from an elevated position while hanging out with friends and/or family. If you want to jump off the boat, you can do that as well.
The Monarch is slightly bigger at 47 x 14 and sleeping 10. It offers all the same features except it's larger, sleeps more people, and has an outside staircase.
The Premiere also sleeps 10 but offers even more space at 50 x 14. The big selling point for The Premiere is the swim deck platform at an excellent value.
The Ambassador is 53 x 15 and sleeps 8, but it comes with all-around roof railing, a swim deck platform, and a slide.
The Marquis is 53 x 15 and sleeps 12. It offers two private rooms opposed to one, two propane fridge/freezer combos opposed to one, a reverse floor plan, a penthouse that sleeps two, all-around roof railing, and a swim deck platform.
The Grand Marquis is 56 x 15 and sleeps 14. It offers all the same features as The Marquis as well as a spiral staircase, a slide, and a canopy top deck.
The Empress is the top of the line at 56 x 15 and sleeps 16. There are three private rooms, and the penthouse sleeps four. Special features include a fly bridge with covered canopy, all-around roof railing, a swim deck platform, and a spiral staircase.
Other Features
When you are here, be sure to take advantage of the big country breakfast at The Harbor Cafe. The lunch menu also offers a wide variety. Regardless of when you eat, you can enjoy views of the lake. If you are not hungry, you can still take in the views and serenity from the deck while sipping on a beer or wine.
If you need a fishing license, fishing tackle, or a souvenir, visit the General Store & Gift Shop. You should be able to find what you need.
One last and important note. If you really want to maximize your fun, you can also rent wakeboards, knee boards, water skis, jet skis, sky skis, and more.
Enjoy your time on the lake. If you are like most people, you will be eager to return.