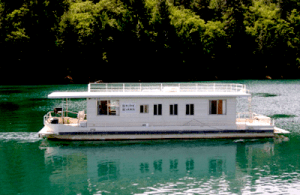 Are you looking for an affordable escape for your family without the crazy rush of driving about and the claustrophobia of a hotel room? How does a vacation with all the amenities of a home with a refreshing lake to swim in, a clean lake to catch fish from, and beautiful scenery surrounding you sound? Renting a Shasta Lake Houseboat through Holiday Harbor might be for you!
Our houseboats have all the conveniences of a well-appointed home and can accommodate anywhere from six to sixteen guests.
We have six different styles of houseboats to choose from. All come with a Captains Chair and sliding glass doors that open to a walk around deck where you can lounge under a canopy and have easy access to dive into the lake for a refreshing swim. Each deck comes with an ice chest for your beverages and an outdoor grill for barbecuing. Each boat also has air-conditioning for indoor comfort and full kitchens to allow one to cook full meals.
Different Houseboat Options
"The Diplomat" houseboat has three bedrooms that can sleep up to a total of six guests; two in each room. It offers a bathroom with shower, a dressing table, and a large walk-in closet.
"The Monarch" is a bit more spacious than "The Diplomat" offering four bed chambers and a full bathroom with tub, shower and closet. There is an additional large walk-in closet with a dressing table. This large kitchen offers pantry space for your groceries and a movable dining room table.
"The Premiere" sleeps up to ten guests within four bed-chambers. This houseboat offers the convenience of two bathrooms; one with a tub and shower. The kitchen in this boat has a large double-door freezer and movable dining table. A large swim platform allows easy access to the lake.
"The Ambassador" sleeps up to eight guests and has two bathrooms that share an adjoining shower. This boat also has a large swim deck platform and outside storage. Its upper deck offers a great place to lay out in the sun.
"The Marquis" can accommodate up to twelve guests with two private rooms. One of the rooms is on the upper deck to allow extra privacy. There are two bathrooms; one with a toilet and another with a toilet and shower.
"The Grand Marquis" sleeps up to fourteen guests. This large houseboat feels grand with its penthouse; an upper deck that is part covered and part enclosed with sleeping quarters. One can either walk up or down from this deck on its spiraling staircase, or slide down the slide into the refreshing lake below. It has a master bedroom with its own toilet and a separate bathroom with shower for the other guests to use.
"The Empress" can accommodate up to sixteen guests and has a penthouse on its upper deck that can accommodate up to four guests. There are also three private rooms, two bathrooms and one shower.
Reserve A Houseboat With Us
To help you decide which houseboat would suit your wonderful get-away please take a look at our website that offers pricing information, photos and a look at each boats floor plan. We look forward to helping you plan the vacation of your dreams!