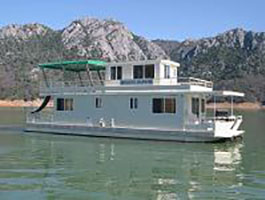 Staying in a hotel or setting up camp on a lakeshore can be a lot of fun, but what happens if noisy neighbors move in beside you? You have no choice but to complain or asked to be moved. However, that will often involve packing up and that is if there is another space available. Likewise, if your family likes to explore, you are forced to leave most of your belongings back at your room or campsite and this means that important things may be forgotten. Luckily, there is an alternative that can give you the benefits of home while making recreation, sight-seeing, and movement easier for your family.
Activity
By staying on a houseboat, families are able to remain in close proximity to the many recreational activities available in the area. To begin with, the Shasta-Trinity National Forest offers a host of hiking trails. Families have access to short trails for easy day hikes and more difficult routes are available for the bravest outdoorsmen. Next, houseboat rentals give users an easy way to get to and from a countless number of private coves and islands. This can provide a sense of control in a wilderness setting. Kids and pets are both easier to watch and control when there aren't other people around which will only make your vacation more enjoyable. Finally, houseboats are able to tow smaller boats and toys. A ski boat can provide loads of on-the-water fun for kids and adults alike. Fishing boats give anglers access to some of the best opportunities for both coldwater and warmwater catches in the North State.
Scenery
Boating gives families the opportunity to more completely explore the beautiful scenery that surrounds this wild environment. They can view and even tour Shasta Dam, the eighth-tallest in the United States, and learn about how it conserves and controls water to the state's agricultural backbone. Located on the shore of the McCloud arm, Shasta Caverns offers even more opportunities for touring, education. Stunning mountain views and the rim of silence they provide will make for a very relaxing vacation for those seeking solitude.
Mobility
When staying on a houseboat, you retain the potential to move from one camp to another. Your family may want a change of view, or neighbors, on a whim and houseboats make that possible. For example, in May 2016 a large group of students from the University of Oregon invaded the lake's famous Slaughterhouse Island and then abandoned their clothing, food, tents, and garbage when they left. Any family previously staying on the island was probably pretty keen on escaping these drunk and disrespectful students. Similarly, campsites and hotels do not offer much refuge from unruly neighbors and their children. People may get drunk late at night or fail to control their pets making your vacation a nightmare.
Lake Shasta has 365 miles of shoreline and is fed by the inlets of four rivers. If families are simply staying at a campsite and want to explore will have to drive from one point to another. The dam is in one corner of this massive body of water, while great fishing is many miles away and the caverns are located on the north side. Driving from one place to another can take up to 30 minutes. Drivers are not able to access all the parts of this lake and that can quickly become a vacation spent in a car.