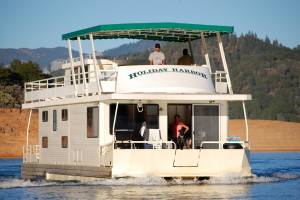 House-boating is unlike any other form of boating. Low-key and relaxed, you putter around magnificent scenery with something new around every turn. Spending a few days house-boating on Shasta Lake might result in some of your favorite memories.
Shasta Lake is a reservoir, the largest in California. Covering over 30,000 acres with about 370 miles of shoreline, the huge lake offers magnificent views of Mount Shasta with its perennially snow-capped peak, towering at 14,000 feet. While traffic on the water is often busy in the summer, there are plenty of quiet places in this huge lake. The friendly people at Holiday Harbor Resort and Marina will be glad to answer all your questions and help plan your adventure.
Here are some tips if you plan to book a houseboat on Shasta Lake in 2021:
1. Now is the time to plan your trip and rent that boat. Rentals go quickly. So do your research and call soon to book 2021 houseboat on Shasta Lake.
2. Think about the size of your family or group and which size houseboat you want to rent. The smallest size is perfect for two people, comfortable for four. The ads say it sleeps six, but I would suggest going to the next size up for six people. Even your best friends, be they the nicest people in the world, will get on your nerves after three or four days in the smallest houseboat.
3. Most of the boats come equipped with kitchen utensils, pots, pans, silverware, plates, etc. However, checking the list before you leave home is a good idea. In addition, check the kitchen before you leave port. They do not provide towels, bed linens, toiletries, or personal items. Check on the toilet paper before you ship out.
4. You will need to bring your own supplies as far as food is concerned. Also bring along plastic bags, paper towels, coffee filters (and coffee), beverages, and ice. The propane fridges tend to get cranky over 90 degrees. It's always good to have extra ice onboard.
5. If you forget something important like ketchup or hot sauce, there are small stores at the marinas around the lake. The boat will have a map. But the condiments are likely to be expensive there. You will have to buy gas at the marinas.
6. Make sure you have a current fishing license if you plan to fish. The lake is known for excellent fishing. The commonest catches are bass of several varieties. There are also trout, salmon, crappie, and bluegills, with the occasional sturgeon.
7. The key to a wonderful vacation when you book a 2021 houseboat experience on Shasta Lake is planning. Take what you need. Don't forget the sunglasses, sunscreen, your swim suits, your camera, and a pair of binoculars.
There are some great hiking trails in the woods. A couple lead to breathtaking waterfalls. Lake Shasta Caverns is an adventure for the whole family. Visit French Gulch, an old mining town, and the Subway Caves for more fun.
And don't miss out on spending some time looking up at the night sky. The stars are beyond spectacular.