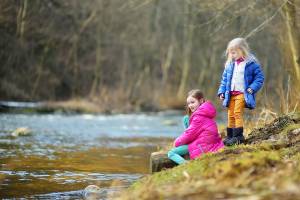 Finding activities while on vacation can be a chore, especially during winter months in cold climates. There are often several people with their own opinions and ideas about what is "fun". Children may need stimulation, while older folks seek quiet solitude. Fortunately, rural campgrounds are usually surrounded by activity options that make everyone happy. It just might require a bit of compromise.
Day Hikes
Hiking in winter is quite dependent on the weather, but being prepared can make for an enjoyable time on the trail regardless of temperature or overcast skies. With trails starting at just a quarter-mile in some national parks, day hiking is easily accomplished. Children's attention spans can handle these shorter trails and they often lead to fascinating scenes such as waterfalls or outstanding views. Many state, national, and federal land management agencies have easy-to-navigate trail guides and maps to make planning a breeze for patrons.
Fishing
Lakeside RV campgrounds offer the best in fishing access. Most have marinas for use by customers, making it easy for anglers to relax on the privacy of their own boat. Just be sure to inquire about extra fees that may be associated with marina access when booking your stay. Not only that, children can putter around on the shore and try their hand at catching some trout or bass for their family's dinner. Many campgrounds near hot fishing sites will even host a small store with a bait and tackle section.
Snow Fun
Snow-bound activities may be an option for those seeking real winter fun. Campgrounds located near mountain ranges make getting there easy. Patrons can often find ski parks that offer all the amenities including lifts, lodges, restaurants, and stores. Some resorts host not just skiing and snowboarding, but tubing rides and guided snowmobile tours as well. Others may choose to stay off the beaten path and explore the snowy backcountry regions of nearby state or national parks. There, travelers can have the freedom to snowshoe or drive their own snowmobiles through the wilderness.
Nightlife
Sometimes, evenings while camping can be boring, especially after several days of "roughing it". Though usually placed in rural settings, most campgrounds are not that far from urban environments. A quick drive will often allow tourists to reenter the real world and find a nice dinner or quiet drink. Cities host bowling alleys, restaurants of all types, and nightclubs for any personality. Whether children are involved or not, large towns will usually have something that everyone can agree on. A quick internet search can help patrons find the best nightlife for their preferences.