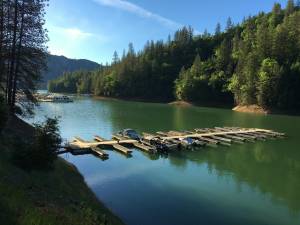 Shasta Lake is full of adventure, sun, and lots of fun! This lake has a little something for everyone. Whenever you visit the Marina at Shasta Lake, keep in mind there are many things to do!  Whether you want to tour the museum, water ski, relax on a houseboat, or summit Mount Shasta, you'll always be able to find something. Headed to Shasta Lake? Here are 7 of the most popular nearby attractions and activities. 
Boomtown Museum
Boomtown Museum, which is run by the Shasta Lake Heritage and Historical Society, is located in the visitor's center near the lake. Here, you can find endless information and history about Lake Shasta. From historical artifacts and sculptures, to detailed history on the Shasta Dam. Boomtown Museum holds plenty of surprises.
Shasta Dam
Built during the 1930s and 1940s, the Shasta Dam helped to create jobs for approximately 15,000 workers after the Great Depression. Here, they built the second-largest concrete dam in the world, which boasts 15,000 tons of concrete. This was also the site of inspiration for Woody Guthrie's "This Land is Your Land" which he came up with while building the arch of the Shasta Dam.
Rentals
There are plenty of rental options on Shasta Lake. Relax with friends and family on a houseboat, or try your luck at water skiing and wakeboarding. Not your speed? Paddleboarding is a great workout and most find it to be very relaxing as well. If you're a fishing fanatic, you can even rent a fishing boat.
Shasta Caverns
You'll have to take a boat to get there, but the Shasta Caverns are a main attraction at Marina Shasta Lake. For a day that is far too hot to enjoy, the caverns sit at a cool 58 degrees, making it prime real estate for many of the area's favorite critters. Some of the formations inside the cavern are thought to be 250 million years old!
National Forest
The Shasta-Trinity National Forest is home to some of the most beautiful nature and wildlife in the country. Hike up to the Burney Falls, which turns out 379 million liters of water per day. Theodore Roosevelt loved this area so much, he named the Burney Falls the "Eighth wonder of the world" and in 1954 it was deemed a national natural landmark.
Mount Shasta
Are you a hiker? The Shasta-Trinity National Forest has plenty of hiking trails and for those who really want to take it up a notch, check out Mount Shasta. This isn't a trip for the faint of heart, and while it is possible to summit the mountain in one day, most people require a two-day excursion. Due to the nature of the climb, you must obtain a permit. Follow all rules and recommendations, ascend early and descend early to avoid potential weather complications, and make sure that whatever you take up the mountain comes off the mountain!
Swimming
Is the California sun a little too hot? Shasta Lake is a clean, safe swimming spot. While there are no designated swim areas, you can always hop off your boat or simply swim out from shore.
Whether you are planning a first time visit to the Marina Shasta Lake, or it's your favorite go-to spot, there are plenty of exciting and adventurous things to do! See you at the lake!