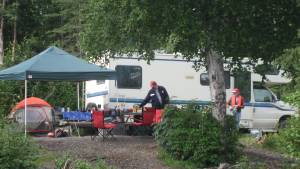 A lakefront camping trip can bring lots of serenity and tranquility. Lake Shasta in California can provide the perfect place for everyone. The stunning location nestled in the mountains provides ample opportunity for all to enjoy. RV camping, tent camping, or house boating there are many sites to stay and enjoy. Holiday Harbor campground delivers campers with many amenities to aid in the perfect family vacation. No need to worry about the family getting bored there are many activities to enjoy.
Location
Shasta Lake is in upper Northern California among the beauty of the pines. An average temperature depending on the season ranges from the low 50's in the winter months to the higher 90's during the summer. The local scenery presents views of the breathtaking nearby mountains. Those looking for an RV campground in Shasta Lake will discover Holiday Harbor can be a home away from home.
Campsites
Holiday Harbor extends several types of campsites to those looking to spend their retreat outdoors. These locations include full hookup sites as well as tent sites. Electricity is available for your convenience with either a 30 AMP or 50 AMP opportunity. Spots can be found in both paved and dirt options depending upon your preference. Trees deliver shade and a way to stay cool during the summer months. Want to stay close to the lake, there are areas waterside. Desire a romantic meal under the trees picnic tables are supplied for comfort and a way to enjoy eating outdoors.
Amenities
Holiday Harbor Campground offers campers many amenities to enhance and improve the stay. No need to leave the family pet at home, they are a pet-friendly facility. Run out of an important item or leave something at home, they offer a local camp store to purchase needed goods or souvenirs. A laundry room is available for those needing to wash their clothes. Desire a little more room for bathing they also provide showers. Tent camping or just looking for a way to keep the RV clean, restrooms are available to use. Holiday Harbor provides its campers with many more conveniences to ensure that the ideal trip is obtained.
Activities
This RV campground at Shasta Lake presents many ways to spend time and enjoy the outdoors. Interested in spending time boating on the lake. There are two ways to enjoy the time you can bring your boat or rent one. Many water-sports can be experienced such as water skis or jet skis. Looking to spend time on the lake without the need for a boat, kayaks and canoes can also be used. Fishing is another option that can be appreciated by the different types of fish contained within the lake. Exploring is yet another encounter that can be experienced with a short trip to the local caverns and Shasta Dam. Kids and adults alike will relish the water of Shasta Lake within Swim Areas that can be found along its shores.
Holiday Harbor offers many reasons to choose them for a visit to Shasta Lake. The local scenery, campsites, amenities, and activities will provide the home away from home experience. Contact them today for your next camping experience.