Let's face it, our dogs are part of the family. Many families can't imagine leaving their pups behind when they go on vacation. So, many dog owners will try to bring Fido along with them, but this can pose its own set of challenges. You will need to pack, and possibly shop, in order to prepare yourself and your canine companion for your upcoming family vacation. The following list of items will aid you in keeping your pet safe and comfortable from beginning to end.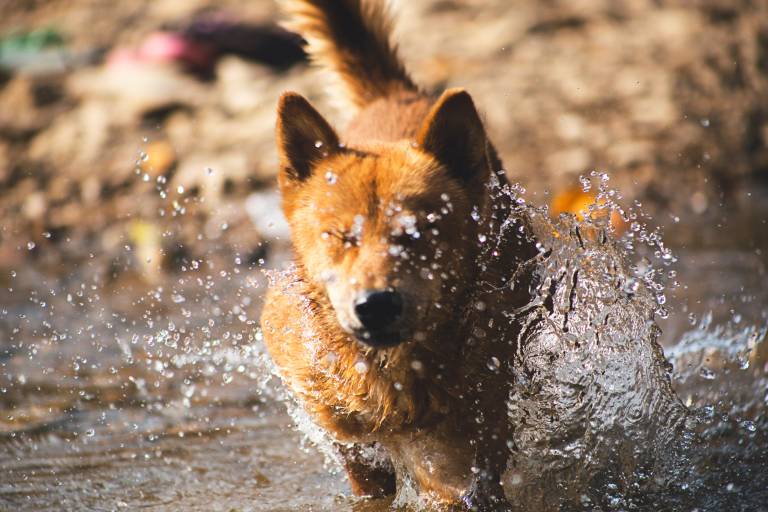 1. Food & Water
Trying to find your dog's favorite food once you reach your destination can be difficult. The best thing to do is bring along your companions favorite food and his dishes. Many hotels, resorts, and marinas have water available. Bottled water will be needed for any extended car rides. Ice cubes can also provide small doses of hydration, keep your pet cool on hot days, and can be offered while you're on the road.
2. Safety
You probably know your dog pretty well, but vacationing on houseboats will require a few extra safety supplies. Of course, you will need her collar and leash. On top of that, you will want to bring along a lifejacket if your pup isn't a strong swimmer. Other safety supplies can include long tie-outs and pet sunblock. After all, you never really know if how a dog will react to new they new types of wildlife they may encounter.
3. Comfort
A comfortable dog is a happy dog so it's imperative that you work to reduce the stress caused by new people, places, and routines. Our canine companions enjoy having some of their things, like his favorite blanket or stuffed animal, just as much as we do. If your dog is kennel trained, you really have no choice but to bring it along. Failing to do so could lead to confusion and increased stress.
4. Entertainment
Most families that embark on houseboat vacations will pack cards, games, music and other forms of entertainment. However, one mustn't forget about the dog. Be sure to bring along at least one or two of his favorite toys. You may even consider adding to his collection with something that floats so he can enjoy a good swim session right along with you.
5. First Aid
Accidents happen, even to the most well-behaved dogs. This is especially true when vacationing in a new environment. You can purchase canine first aid kits, but be sure they include things such as tweezers and eye drops in addition to the bandages and antiseptics.
6. Health
To reduce the chances of emergencies, it's a good idea to take your furbaby in for a thorough checkup before taking him or her on vacation. The vet will be able to alert you to any conditions that can be exasperated by travel. It will also give you the chance to have any routine medications refilled.
7. Documentation
Unfortunately, not everyone is a good pet owner. In order to protect yourself, you should bring along your dog's shot records, especially a copy of his latest rabies vaccination and registration. That way you can prove to resort personnel, nearby campers, and law enforcement that your pet is safe and healthy enough for public interaction, if necessary.
8. Identification
Your dog's vet records and registration are only a couple pieces of paperwork you will want to bring with you on your houseboat vacation. You may choose to have your pet microchipped ahead of time and you should bring along a recent photo of him in case he gets lost.
9. Grooming
Lakeside vacations will no doubt lead to some dirty dogs. Muddy paws, stickers, and pests are more likely to occur than not. You must be prepared to keep him as clean as possible for both his comfort and his health. Just be sure to only use products like shampoos that are approved for use near inland waterways.
10. Cleanup
Possibly the most important aspect of taking a dog on vacation is having the ability to properly clean up after him. After all, you will be at a resort marina while you wait to board your houseboat so you'll need to have waste bags at the ready. Also, bringing along a couple old towels will let you clean up any messes made by your pup on the vessel itself.
When it comes to family vacations, houseboats give you the opportunity to bring your pets along for the adventure. With proper preparation, your family and your canine companions will fully enjoy the fun and relaxation which you seek.