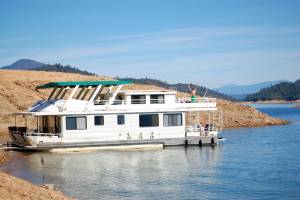 In California, Lake Shasta is the state's largest lake, and it provides with ease many pleasurable activities in a perfect setting. Formed by the Sacramento, Squaw, McCloud and Pit Rivers, this beautiful lake has hot, but dry, summers with calm weather and cold winters. Contained by Shasta Dam, the inflow of these four rivers have created a many-armed lake as the waters moved slowly up the contours of the bordering mountains. Hundreds of coves and byways have been formed by these four rivers, making Lake Shasta a many-armed lake that is perfect for houseboats, such as those provided by Holiday Harbor.
Great Fishing and Interesting Sites
Not only is the lake ideal for houseboats, but as a body of water composed of 30,000 acres, Lake Shasta is renowned for its excellent fishing. Throughout the year, there is fishing for such varieties of freshwater gamefish as Brown Trout, King Salmon, Large and Smallmouth Bass, Crappie and Blue Gill. In addition, the areas surrounding the lake are stunningly beautiful. There are also other sites to visit that are breathtaking and varied. Among the more interesting are the Caverns that offer families a myriad of activities in which they can engage. Across the McCloud Arm from Holiday Harbor, there are impressive caverns accessible by houseboats. These caverns have stunningly beautiful stalactite and stalagmite formations. There are also what are called stone draperies in symmetrical folds, and many-colored fluted columns. Tours of these awesome structures are offered 363 days a year.
Houseboat Rentals
For a picturesque setting and an exciting vacation without complications, Holiday Harbor can provide families the perfect houseboat rentals on shasta lake.  Providing families and friends the most in comfort and recreation, Holiday Harbor, a premier marina, offers a variety of houseboats that vacationers can rent at affordable rates. For the convenience of the renters, the houseboats are fully stocked, adding to their ease. Families or friends can comfortably relax and enjoy a worry-free weekend on the water or a full week floating together on the lake.
Houseboat rentals Shasta Lake are already stocked for the occupants so that they can relax and enjoy their vacation. An accommodating staff member will provide instructions to the renters on driving the houseboat, thus making it possible for the passengers, both adults, teens and younger children to have an enjoyable time together on a most pleasant vessel. There are also numerous other rentals available for those who are using the houseboats. These include personal watercraft, fishing boats, kayaks, canoes, paddleboards, inner tubes, and water skis. The staff members will gladly provide instructions on using these various boats and other things. With all these choices, adults, teens and children can satisfy their own interests.
The rentals at Shasta Lake provide everything that vacationers can want. Not only are there houseboats and other rentals, but there are several convenient services that the resort offers. Visitors can eat a large country breakfast. They can look around the General Store & Gift Shop, too, where they can find last-minute items and souvenirs. A repair service is also available.