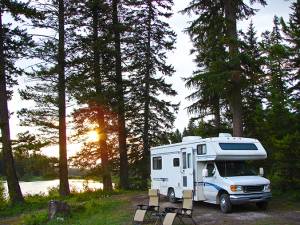 Summertime is here! An RV campground at Holiday Harbor is a fantastic option for your summertime vacation! Located on Lake Shasta in California, Holiday Harbor is the perfect resort to consider. Only a short drive from lots of major cities in California makes Holiday Harbor the perfect getaway. This RV resort provides a lovely view of Lake Shasta to enjoy your favorite lake activities and so much more.
Lake Shasta has so much to offer vacationers. Whether you like fishing, boating, tubing, or just relaxing by the lake, this is the spot for you. Holiday Harbor has something for everyone. You can rest with ease at Holiday Harbor's RV resort without the hassle of everyday life. Just sit back and enjoy the serenity of Lake Shasta and all it has to offer you. 
Amenities Offered at Holiday Harbor
Whenever you are booking a space at an RV resort, there are many things to take into consideration and prepare for. Holiday Harbor provides tree-shaded sites with full hookups by the water's edge. Additionally, they offer laundry facilities, showers, restrooms, private docking, and swim areas. Some tent camping is permitted and booking in advance is strongly recommended. Book your vacation with confidence and know Holiday Harbor has you covered.
Your vacation should always be fun and exciting. It should be free of worries and hassles that will prevent you from relaxing. Therefore, staying at Holiday Harbor near Lake Shasta should be a peaceful and exciting experience. So whether your planning a long road trip or a mini vacation, be sure to stop and take advantage our RV campground and resort. 
How to Contact Holiday Harbor 
Finding the perfect RV resort may have been difficult in the past, but after experiencing Holiday Harbor, you will want to make this your new go-to. We are located just 18 miles north of Redding at the O'Brien/Shasta Caverns Road Exit 965. Feel free to look through our website or call us for more information. You are on your way to booking a luxurious vacation at the best RV resort in Northern California!