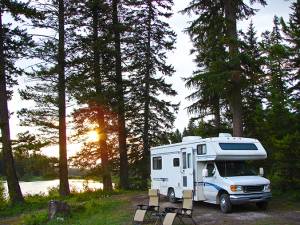 In Lakehead town of Northern California, off the beautiful Shasta Lake, sits the RV Campgrounds. Shasta Lake has a rich history, and its scenic beauty is a tourist, especially those that enjoy water adventures. Whether you intend to tour the park or indulge in outdoor recreation activities, RV Campground Shasta Lake has your diverse needs well catered for.
RV campground Shasta Lake has many rounds, but nothing is like the Holiday Harbor's campground. Conveniently located on Shasta Lake's shores, off interstate 5, the campground is easy to access from Los Angeles, Reno, Eureka, Portland, and San Francisco. There are tons of relaxing and exciting recreational activities and adventures, both on land and in the water, that are ideal for the entire family.
Why is Harbor RV Campground the Best?
The campground 27 sites that are tree-shaded, fully hooked up by the edge of the water. The campground has showers, restrooms, laundry facilities, private docking, and a swimming area. There, you can choose to stay in their beautiful boat housing rentals, or you can make arrangements with the reservation office to bring your tents to the grounds and camp.
The grounds and amenities of Holiday Harbor are well maintained, which is a critical aspect of making an RV vacation a pleasant one. This, coupled with the many recreational activities that you can indulge in, make this campground the best in the entire Shasta Lake area. Should you want to bring your pets, laundry, kids, or boats to Holiday Harbor's campsite, there is no reason to hold back as all are allowed.
Their boat rentals make exploration of sites along the lake's shoreline easy. For this adventure, you can either opt to use:
A patio boat/ party cruiser

A fishing boat

A Ski boat

A personal watercraft
Recreational Facilities at Holiday Harbor's campground, Shasta lake
Inside a 20-mile radius of Holiday Harbor's campground, one can enjoy these recreational facilities:
House boating

Fishing

Water sports

Kayaking and canoeing

Hiking and mountain climbing

Mountain biking

Hunting over winter
From the Holiday Harbor's campground, you can easily access other resources nearby like a golf course, visit Shasta Caverns and Dam, and go fishing too. You can either bring your lake toys like kayaks, canoes, paddleboards, wakeboards, and inner tubes for your water activities or hire from their Toy Box.
House boating at Holiday Harbor Campground
House boating is one Holiday Harbor's must experience facilities. Do not worry if you have never been in one before. The staff at the camp are amiable, and they take time to take you through the boat's basics to ensure your experience is a pleasant one.
The boats have varied capacities and facilities, and the costs vary with each. Rented for a minimum two days, here are the houseboats you can rent at Holiday Harbor:
The Diplomat- Measures 37'X14′, sleeps 6.

The Ambassador- Measures 53'X15′, sleeps 8.

The Monarch- Measures 47'X14′, sleeps 10.

The Premiere- Measures 50'X14′ and sleeps 10.

The Marquis- Measures 53'X15′, sleeps 12.

The Grand Marquis- Measures 56'x15′, sleeps 14.

The Empress- Measures 56'x15′, sleeps 16.