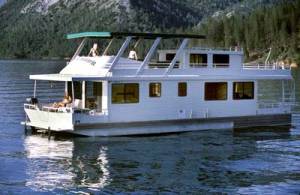 Lake Shasta is rated as one of the Top 10 Houseboat Lakes in the United States. That alone makes it intriguing. The reason for the high rating relates to 360 miles of mountainous shoreline, waterfalls, caverns, trails, and some of the best fishing you will find anywhere.
If you're visiting for the fishing, you will find trout, bass, salmon, crappie, sturgeon, and bluegill. With 30,000 acres of quality fishing available, you're likely to have a nice catch. That said, boat rentals on Shasta Lake aren't just for fishing.
Houseboat Rentals On Shasta Lake
Sure, you can fish from a houseboat, but you can do many other things as well. You can hang out in the living space with your choice of music, grab a drink from the refrigerator, play cards with friends and family while enjoying the scenic views, cook on the stove, grill the fish you caught, and more.
There is a houseboat for every budget. If you want something simple for two nights, go with The Diplomat, which is $573 for two nights. This is very affordable since you will likely be splitting the costs with others. It's a lot more exciting and unique to spend two nights on a houseboat than it is to spend $100 at the movies.
If you want to go top-of-the-line with something more luxurious, strongly consider The Grand Marquis, which is $1,603 for three nights. It also comes with a slide, which means endless hours of fun.
There are many other houseboat rentals to choose from as well.
Fun & Adventure On Lake Shasta
If you want a party or adventure, look into the party cruiser and ski boat rentals. The party cruise seats 20 and sleeps eight. It's $385 per day on weekdays, $425 per day on weekends, and $2,120 per week. The ski boat seats eight and is $385 per day and $2,120 per week.
Whatever boat you choose, don't forget the water toys. This includes hyperlite wakeboards, kneeboards, and water skis. If you're an adrenaline junkie, then you should definitely try out the sky skis.
When you're out and about on the lake, be sure to check out Backbone Inlet and Packers Bay.
Other Amenities
When you're done with your boat rental, but you still want to enjoy the peaceful surroundings, you have several options. One is to dine at The Harbor Cafe, which overlooks the lake. You can also go for a splash in one of the swim areas.
If you want to pull off the ideal vacation, combine your boat rental with the RV campground. Stay for a week at the campground, but break up the week with a boat rental. That's how you turn something memorable into something incredible. If you choose to go this route, you will find 27 shaded areas and full hookups by the water. You can have a pet on the campground, but they must be on a leash.
Lake Shasta Expectations
If you're like most people who visit, then you're going to love your trip to Shasta Lake. It's also highly likely that you will return. The RV campground is a bonus, but
boat rentals in Shasta Lake
are a necessity. It's something you should experience at least once in your life, especially if you take full advantage of it with a houseboat rental.