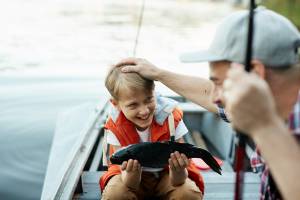 When traveling to beautiful Lake Shasta in Redding, CA, make sure to stop by Holiday Harbor to check out all their water toy rentals such as renting ski boats, patio boats, fishing boats, and paddle boards on Shasta Lake. Lake Shasta is located in northern California, tucked away in a scenic mountain location with the crown jewel Mt. Shasta, a snow-capped extinct volcano nearby.
The perfect weekend getaway or extended vacation can be discovered at Lake Shasta. The lake was formed in 1948 to control the Sacramento River and when filled covered the town of Kennet and many Wintun villages. When the lake is low, the submerged tunnels of the Southern Pacific Transportation Company can be seen. Today, the tranquil and pristine lake hosts thousands of vacationers escaping for a little while in this piece of heaven.
To truly enjoy the 360 miles of shoreline at Lake Shasta, rent a houseboat from Holiday Harbor and explore the coves and shorelines to be found at Lake Shasta. California's largest water reservoir has five major lake arms each presenting its character. When the lake is full, pull up and make your lakeside campsite, with emerald green waters in the background life is good.
Adventures abound on the lake and are a fisherman's paradise. Fishermen have daily challenges landing a large variety of fish including bass, salmon, and trout. If you do not have a fishing boat, don't worry, Holiday Harbor has affordable fishing boats to rent so you can catch your trophy fish with all the bragging rights.
Holiday Harbor is the perfect gateway to fun on Lake Shasta. The best way to enjoy Lake Shasta's crystal clear water is to have the right water toys, and Holiday Harbor has them. Their extensive inventory of water toys that can be rented include: Fishing Boats, Party Barges, Patio Boats, Ski Nautique Ski Boats, Crownline Ski Boats, Paddle Boards, Towables, and More.
Lake Shasta has been recognized as one of the Top 10 house boating destinations in America. The 360-mile shoreline is adorned with a majestic mountain landscape including mesmerizing waterfalls, enticing and mysterious Lake Shasta Caverns, and many secluded hiking trails. There is something to do for all ages, make sure and plan enough time to explore all the exciting adventures.
Holiday Harbor is your fun headquarters when visiting Lake Shasta. Arrive in your RV and become immersed in the splendor of Lake Shasta at Holiday Harbor Camping and RV Park. The Camping and RV Park has 27 sites, many with tree shades and full hookups. Also available are laundry facilities, restrooms, a swimming area, and private boat docking.
Among the facilities and services offered at Holiday Harbor are the Harbor Cafe, General Store and Gift Shop, complete Marina, and Marine Repair Services. We at Holiday Harbor pride ourselves in being great hosts and providing you with all the toys necessary to make your holiday truly spectacular. When you visit us you will discover an absolute natural wonderland with an outstanding view thrown in for free.