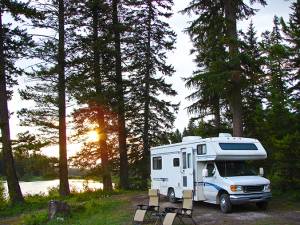 RV camping can be a fun and memorable experience for all different types of people. It can be a joy for families that are looking for a little bit of bonding time. It can be a pleasure for folks who simply want to relish the magnificence of nature and fresh air for a while, too. If you're looking for an RV campground on Shasta Lake in California, then you should consider spending some time at Holiday Harbor.
Family-Friendly
This RV campground has a family-friendly vibe that quickly and easily makes visitors feel at home. People frequently bring their beloved pooches to the campground. That's because leashed pets are allowed to stay. People frequently bring their boats to the campground as well. If you love nothing more than good old-fashioned boating fun, a stay at this site may be optimal for you.
Convenient
Holiday Harbor is an RV campground on Shasta Lake that visitors can turn to for pure convenience. It features a total of 27 sites. These sites all have ample shading from trees. Guests, because of that, don't ever have to worry about feeling hot and uncomfortable. These sites all have full hookups that are located right by the water.
Plenty of Options
There are quite a few helpful, useful, and practical amenities available at this contemporary RV campground. Clean laundry facilities are accessible to guests who want to wash their clothing. Equally clean restrooms and showers are accessible to guests as well. Other highlights include a designated swim section and even private docking. If you want to feel 100 percent at home, Holiday Harbor can be a fantastic choice for you. This campground can cater to people who are in the mood to go for quick and refreshing swims. It can even cater to people who want to freshen up and feel squeaky-clean while they're away from home.
Note that tent camping is in some cases acceptable at Holiday Harbor. If you're interested in tent camping, you should get in contact with the friendly and helpful Holiday Harbor team beforehand. Note, too, that it's always ideal to book campground reservations beforehand. If you want your stay at Holiday Harbor to be as smooth, convenient, and efficient as possible, you should do whatever it takes to plan prior to your arrival.
Affordable
Holiday Harbor offers affordable rental rates that are suitable for nightly, weekly, and monthly stays. Rental rates sometimes depend on the specific season, too. If you stay during the off-season, you can get access to rates that are even more budget-friendly. Summer is the campground's peak season. The summer season starts on May 25th and ends several months later in the beginning of September. There are two off seasons. One begins on April 1st and ends on May 24th. The other starts on September 4th and ends on October 31st.
A Short Distance from Large Cities
Holiday Harbor is relatively close to many large cities in the region. It's merely 175 miles away from Sacramento, California's capital city. It's 230 miles away from energetic San Francisco. It's 220 miles away from Reno, Nevada, as well. If you're looking for an RV campground experience that's friendly, cozy, and safe, Holiday Harbor makes a superb choice.