California is a popular destination for millions of vacationers every year. The vast state has many of exciting places to explore. One popular destination in Northern California is Shasta Lake. The lake is a man-made reservoir that was created when the Shasta Dam was built on the Sacramento River. It is located about a thirty minute drive north of the town of Redding, California.
The area of Redding and Shasta Lake offers a variety of accommodation options for visitors to choose from. One of the most popular options is renting a houseboat on the lake. Houseboats offer many amenities and can often accommodate larger groups of people. Majority of the houseboats for rent on Shasta Lake include private bedrooms, bathrooms, and full kitchens. Some of the larger vessels include additional amenities such as hot tubs and personal watercraft options.
Individuals interested in renting a houseboat on Shasta Lake can rent their vessels at several different locations around Redding and at the marinas located at the lake. These businesses include Holiday Harbor-Shasta Lake Houseboat Rentals and Marina, Jones Valley Resort Silverthorn Resort, Bridge Bay at Shasta Lake, Shasta Marina at Packers Bay, Digger Bay Marina, Antlers Resort and Marina, and Sugarloaf Marina.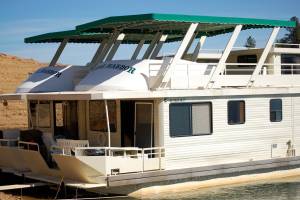 Many people find that the seven marinas located on the lake are the best places to rent houseboats. These establishments have their vessels stored on site. They also typically offer additional services, such as fuel, to their patrons. The particular location that is best varies from one party to the next. This is often determined by the travelers' original location, itinerary, and the particular vessel chosen for the adventure.
Reservations for renting a houseboat should be made in advance as far out as possible. This will help insure that you, and your party, can obtain the particular vessel that is right for you. This is especially true in the summer months and will also help to insure that you are able to rent a houseboat during your desired time frame.
The cost for renting a houseboat on Shasta Lake is dependent on several factors. The age, size, amenities on board, and location of the particular houseboat will be among some of the top deciding factors to the cost. The duration of the trip and the time of year will be another thing to consider in determining these costs. Summer months are typically more popular and are, therefore, also more costly when renting a houseboat. In many instances, houseboats can be rented for anywhere between $2,000 to $5,000, per week, during the off season months. These costs are considerably higher during the peak houseboat rental season.
Shasta Lake is the largest man made reservoir in the state of California. It offers over 350 miles of shoreline, hundreds of coves, spectacular views, and a variety of exciting activities to enjoy while vacationing. The town of Redding, is a short drive away and also offers its guests a variety of exciting things to see and do.