As spring approaches, you may already be thinking about heading out to Shasta Lake. This area of California is beautiful and it offers plenty to see and do. One of the most popular things to do on Shasta Lake is to rent a houseboat. Staying on a houseboat gives you easy access to the w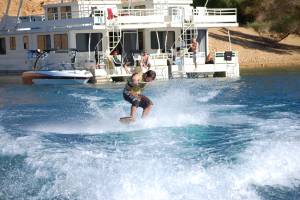 ater. Plus, you have all the comforts of home so you can enjoy your relaxing vacation without ever leaving the lake. Rent your houseboat for spring on Shasta Lake for a vacation you will never forget.
Tips for First Time Houseboat Renters
If you have never rented a houseboat before, you should first familiarize yourself with the different options available. Most rental providers have photos and lists to show you the layout of the boats as well as the amenities included. Consider the size of the boat and your boating experience when choosing the best option. Maneuvering a houseboat can be challenging due to the size of the boat so it is important to learn boating basics and safety protocols.
Choosing Your Rental
There are plenty of options when it comes to houseboat rentals on Shasta Lake, especially in the Holiday Harbor area. The weather in spring provides the perfect opportunity for a lakeside vacation with the entire family. Houseboats are available in many sizes with plenty of amenities so you can choose the best option for your family size. Holiday Harbor is a premier marina that offers easy access to the lake. Most houseboat rental companies offer fully-furnished and stocked boats. This means you only need to bring your food, clothing, and personal belongings. Be sure to contact your rental company before your trip so you are prepared with everything you might need to enjoy your lake vacation.
Why Choose Shasta Lake?
Springtime at Shasta Lake offers the perfect weather for outdoor fun. This lake is beautiful, clean, and family-friendly. Renting a houseboat allows you to explore the lake at your leisure. You can park your houseboat to swim, fish, or just enjoy the sights. Shasta Lake has been named one of the top house-boating lakes in the nation. The lake covers 30,000 acres in the northern part of California. You can rent water skis, tubes, and other toys to get the most from your lake experience. Many people who rent houseboats on Shasta Lake are perfectly content with never leaving the boat through their entire vacation. Houseboats can be rented at Holiday Harbor for short stays or extended periods of time. A bonus about renting during the spring season, prices are often lower than other times of the year.
Rent your houseboat for spring on Shasta Lake for a relaxing water adventure that will be enjoyed by all ages. Houseboats can accommodate small families or larger groups. Many come with amenities like slides and covered decks. Most houseboat rental facilities also rent other vessels and water toys. Your rental facility will stock your houseboat with the basics so you do not have to pack a lot for your lake vacation. Spring is a beautiful time of year to visit Shasta Lake and the weather is perfect for enjoying the views and playing in the water.